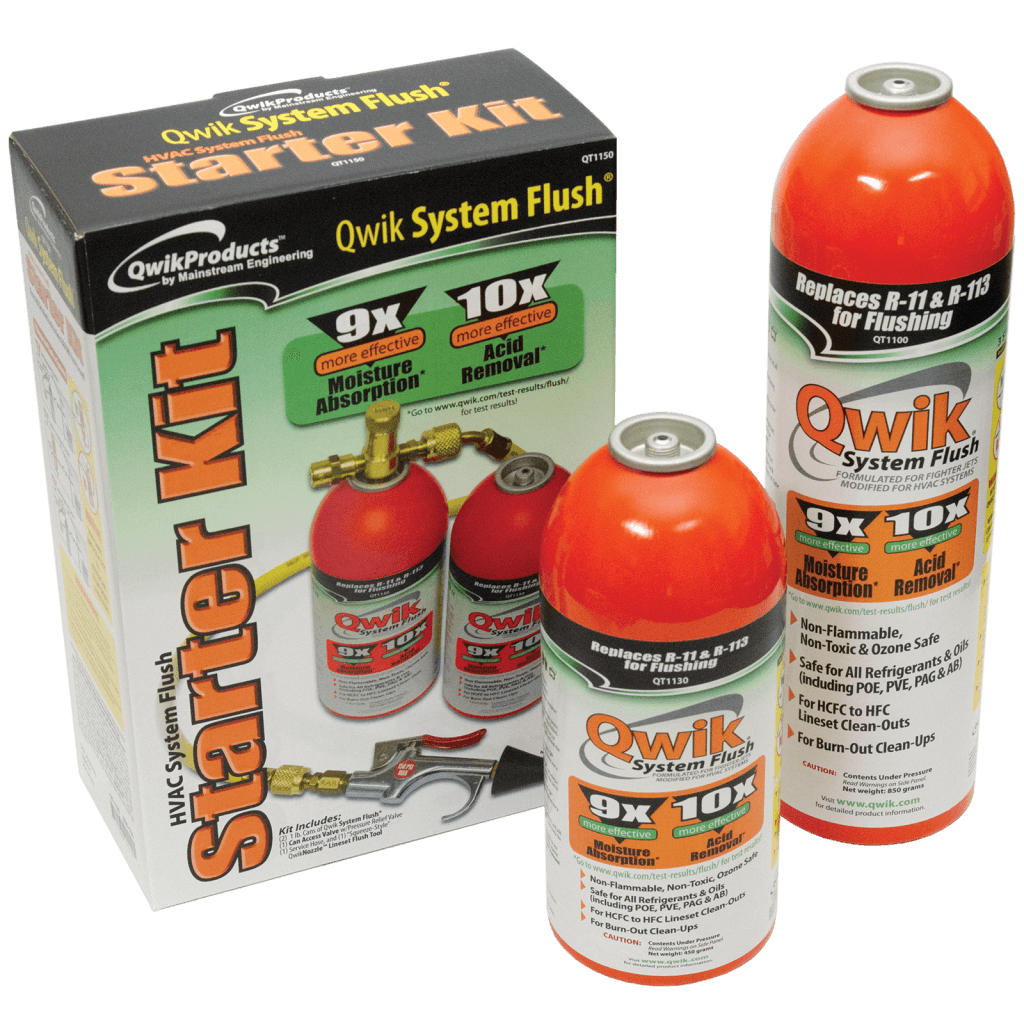 Qwik System Flush®and Accessories
Qwik System Flush® is a superior formulation that is 9-10 times more effective in moisture absorption and acid removal than competitive products. QT1100 (2-lb aerosol), QT1130 (1-lb aerosol), or QT1150 (complete starter kit with two 1-lb aerosol cans, charging hose, can access valve, and QwikNozzle™. Qwik System Flush® is approved by original equipment manufacturers. Click to see this product in action!
SKU: QT1100, QT1130 and QT1150
Qwik System Flush® is used to flush contaminants such as debris, residual oil, acid, and moisture from refrigeration line sets. If you can't replace refrigeration line sets after a burnout or a R-22 to R-410A change out, use Qwik System Flush to remove residual contamination. See our application bulletin for in-depth instructions on how to use Qwik System Flush.
Qwik System Flush® Packaging Options
QT1100 – 2-lb aerosol can (services up to a 10-ton system)
QT1130 – 1-lb aerosol can (services up to a 5-ton system)
QT1150 – Complete starter kit includes:

(2) 1-lb aerosol cans (QT1130)
(1) Can access valve (QT1105)
(1) QwikNozzle™ Line Set Flush Tool (QT1106)
(1) Short charging hose
Equipment Needed to Flush a System Using Qwik System Flush®
The following equipment is required for each flushing operation:
Qwik System Flush®. As a general rule, one 2-lb aerosol can cleans up to a 10-ton system. The amount you need will vary by size and level of contamination. See the chart below to estimate what you'll need to complete your task.
Part Number
Description
Qwik System Flush®
QT1100
2-lb aerosol can for up to 10-ton systems
QT1130
1-lb aerosol can for up to 5-ton systems
QT1150
(2) 1-lb aerosol cans for up to 10-ton systems
Qwik System Flush® Can Access Valve (QT1105 or supplied with QT1150 kit)
Refrigerant charging hose with ¼" flare terminations (supplied with QT1150)
A flare fitting for access to the section to be flushed – either a flare fitting that you can braze onto the piping, a line set flush tool (QT1110), or our QwikNozzle™ Squeeze-Handle Line Set Flush Tool (QT1106 or supplied with QT1150)
An empty container to capture waste as it exits the line sets or components being flushed. Waste should be disposed of in accordance with local, state, and federal regulations.
Compressed nitrogen cylinder with pressure regulator
Safety glasses
Protective gloves
3 Steps to Flushing a System Using Qwik System Flush®
WARNING: Never connect Qwik System Flush® to a manifold set or to a nitrogen tank! The can will explode if pressurized!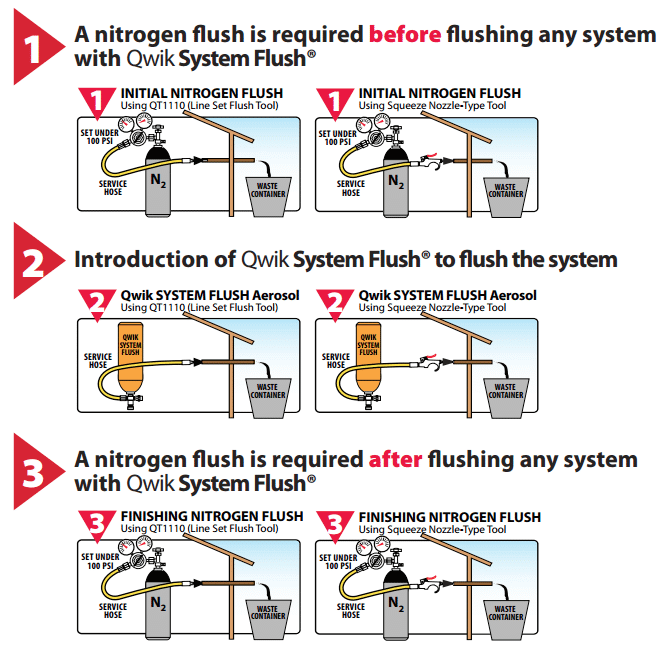 Instructions for Using Qwik System Flush®
Recover any refrigerant in the system.
Open the system and cut out the following components:

Filter-drier(s)
Expansion valve(s)
Compressor(s)

In a burnout/changeout, the filter-drier and compressor would need to be replaced anyway.

Place a waste container where both nitrogen and flush-carrying waste will be exiting the system.
Connect the nitrogen gas supply to a flare fitting and perform a nitrogen purge at each area you intend to flush. Let the nitrogen flow for at least 5 minutes or longer if debris continues to exit.
The ideal use for the nitrogen is to physically blow as much contaminated oil out of the system that you can. Use your judgement to open the system anywhere you expect oil is trapped, and then use the nitrogen to blow this oil and other debris from the system. Never purge through an expansion device (capillary tube, orifice plate, TXV, etc.) this is likely to clog the device.
Use Qwik System Flush to clean wherever you used nitrogen as a purge. If practical, the best method for cleaning piping or system components is to replace all the piping and system components. However, if full replacement is impractical, it must be cleaned by something more effective than nitrogen. A nitrogen purge is not capable of removing all the contaminated oil from the inside surface of a line set and should only be the beginning and end of a thorough cleaning process.
After using nitrogen to purge the system, the most effective way to remove the remaining residual oil from the pipe lines is to use Mainstream's Qwik System Flush. Remember, you must still perform a nitrogen purge before and after using Qwik-SF. The Qwik System Flush solvent has excellent absorption capacity, therefore, a relatively small amount of Qwik System Flush is needed. The more contamination you remove with a nitrogen purge before, the less Qwik System Flush will be wasted removing contamination that does not require a solvent. Nitrogen is much less expensive than any flushing solvent and should be used liberally in comparison.
Repeat a nitrogen purge on all areas where Qwik System Flush was introduced into the line set. Never exceed 100 psig. When you purge these areas, the solvent exits the line as a liquid. Continue purging the line for an additional minute after you no longer see Qwik System Flush exiting the system.
A flushing solvent cannot be used for components such as the compressor, filter-drier, or expansion device. Always remove filter–driers when performing a flush, and never try to flush through expansion devices.
Connect the new components, installing BOTH a new liquid-line filter–drier and a new suction line filter–drier into the system. The purpose of the suction line drier is to catch residual acidic oil remaining in the system before it can enter the suction line of the compressor and contaminate the compressor oil, leading to premature compressor failure.
Leak test, evacuate, and charge the system with refrigerant.
As an option to further assure all acid and moisture has been removed, use QwikInjector to introduce QwikShot(refrigerant and oil treatment) into the operating system. One bottle treats up to a 6-ton system.
Allow the system to operate for a minimum of 15 minutes, and then use QwikCheck to test for acid. If acid is detected, wait an additional 30 minutes and retest for acid. If acid is still detected, install new filter–driers again as discussed in step 10 and repeat steps 12–13.