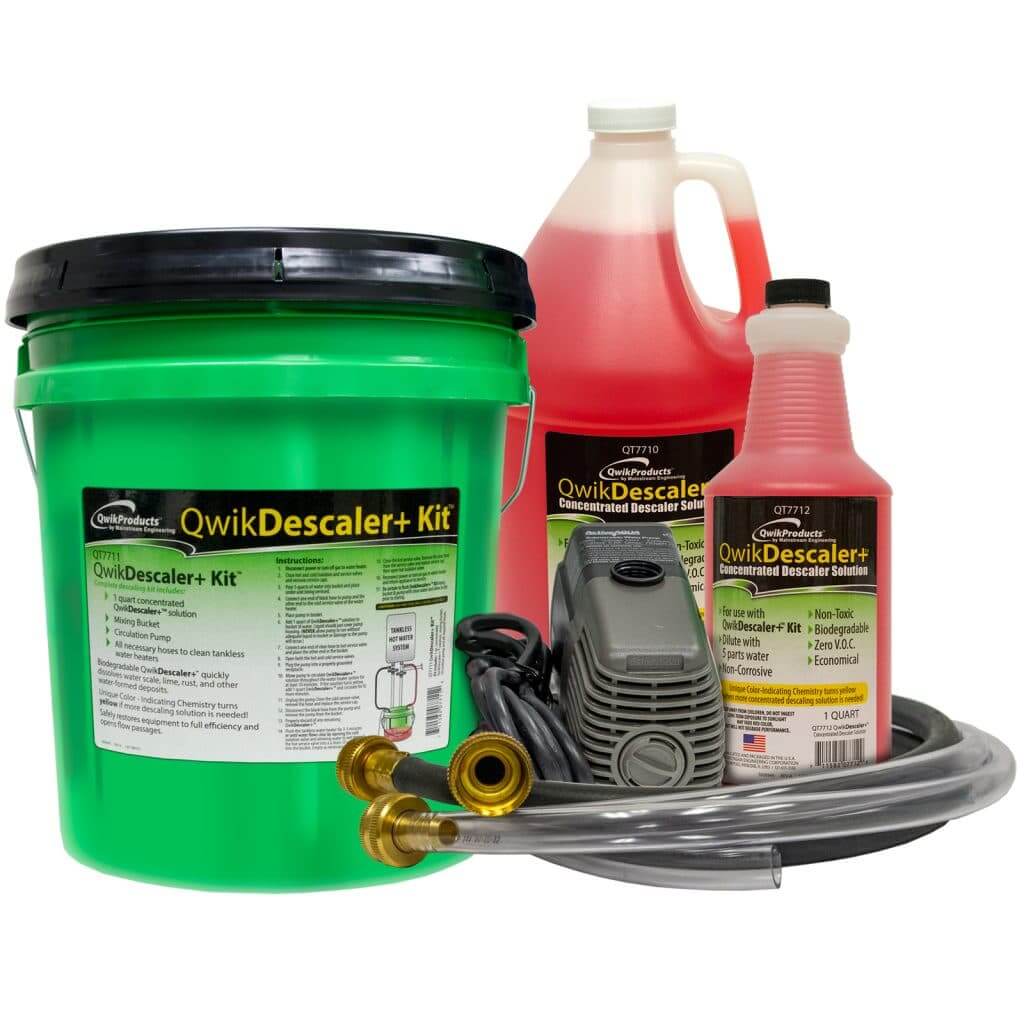 QwikDescaler+®Concentrate and Kit
QT7711 QwikDescaler+ Kit Complete descaler kit includes: 1 qt. concentrated descaler solution, mixing tank, circulation pump (500gph) and all necessary hoses to clean tankless water heater. QT7710 QwikDescaler+ (1 Gallon) Concentrated biodegradable Calcium, Lime, Rust & Scale Remover. 1 gallon makes 6 gallons. QT7712 QwikDescaler+ (1 Quart) Concentrated biodegradable Calcium, Lime, Rust & Scale Remover. 1 quart makes 6 quarts.
SKU: QT7710, QT7711, QT7712
Quickly dissolves water scale, lime, rust, and other water-formed deposits.
Rapidly improve efficiency and open flow passages of heaters and other tankless heat exchangers.
Keeping heating passages free of mineral deposits significantly improves efficiency, conserves energy, reduces energy costs, and extends the life of the equipment.
Unique Color is indicating Chemistry...Tells you when more Descaling solution is needed and when cleaning is complete

At working strength, the descaling solution will appear reddish. When the descaling solution is exhausted and no longer working, it turns yellowish, indicating that more QwikDescaler+ should be added. The system is clean when the reddish color is retained for 10 minutes.

Safely Restores Equipment to Full Efficiency and Opens Flow Passages
Calcium scale deposits cause significant reductions in heat transfer, resulting in reduced efficiency, reduced capacity, and increased energy costs. A thin layer of scale, as small as three-hundredths of an inch (0.03 inch), can increase energy consumption and the cost of operation by 30%.
Contains a powerful metal protectant designed to protect against rust, corrosion, and oxidation during and after the cleaning.
Disconnect power or turn off gas to water heater.
Close hot and cold isolation and service valves and remove service caps.
Pour 5 quarts of water into bucket and place under unit being serviced.
Connect one end of black hose to pump and the other end to the cold service valve of the water heater.
Place pump in bucket.
Add 1 quart of QwikDescaler+ solution to bucket of water. Liquid should just cover pump housing. (NEVER allow pump to run without adequate liquid in bucket or damage to the pump will occur.)
Connect one end of clear hose to hot service valve and place the other end in the bucket.
Open both the hot and cold service valves.
Plug the pump into a properly grounded receptacle.
Allow pump to circulate QwikDescaler+ solution throughout the water heater system for at least 10 minutes. If the solution turns yellow, add 1 quart QwikDescaler+ and circulate for 10 more minutes.
Unplug the pump. Close the cold service valve, remove the hose and replace the service cap.
Disconnect the black hose from the pump and remove the pump from the bucket.
Properly discard of any remaining QwikDescaler+
Flush the tankless water heater for 3-5 minutes or until water flows clear by opening the cold isolation valve and allowing water to exit through the hot service valve into a drain (if available) or into the bucket. Empty as necessary.
Close the hot service valve. Remove the clear hose from the service valve and replace service cap; then open the hot isolation valve.
Reconnect power or turn on gas to water heater and return appliance to service.
Be certain to flush QwikDescaler+ Kit hoses, bucket & pump with clean water and allow to dry prior to storing.