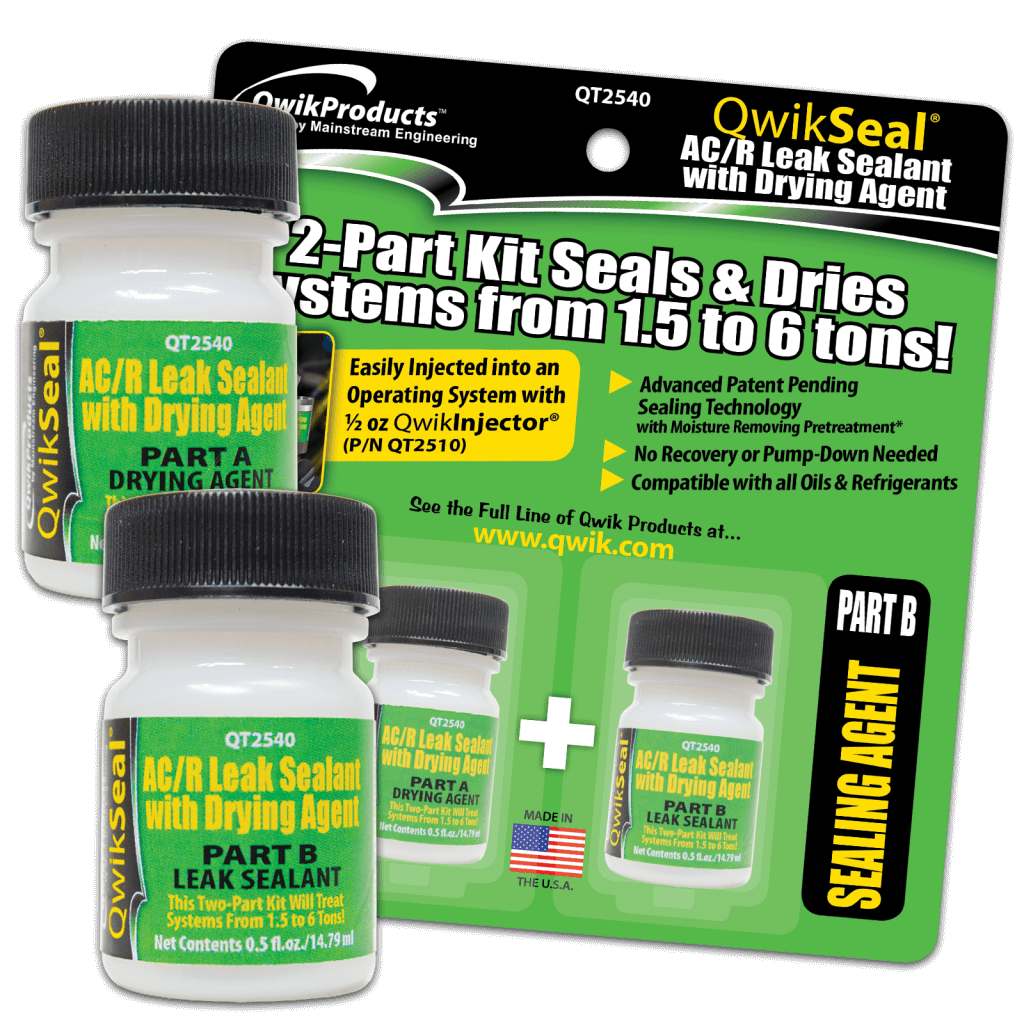 QwikSeal® Leak Sealantand Drying Agent
QwikSeal® is a 2-part kit that includes an advanced patent pending sealing technology plus a very effective moisture remover. Use of an effective drying agent is important to ensure the sealant reacts only with moisture present at the point of a leak.
SKU: QT2540
QwikSeal® dries and seals systems from 1.5 to 6 tons, removes up to 26 drops of water and is compatible with all oils and refrigerants.
QwikSeal® bottles (clearly labeled Part A & Part B) are factory sealed to prevent contamination, and should not be opened until ready for use.
QwikSeal® has been shown to completely seal leaks in vapor lines as large as 5.8 pounds per year; however, leaks in the liquid line greater than 0.1 pound per year may not completely seal.
Our tests have shown that the sealing process can take as little as 10 minutes, but it could also take as much as 80 hours of run time. Higher oil circulation rates and higher system temperatures will accelerate the rate of sealing.
NOTE: Always begin a sealing procedure with Part A (Drying Agent). Once opened, the entire contents of Part A should be transferred to the QwikInjector® and injected into the system as soon as possible.
Unscrew QwikInjector® top and fill with QwikSeal® Part A (Drying Agent).
Connect to the low side of the operating system FIRST.
Connect to the high side of the operating system LAST.
Open the valve on the manifold. The high side pressure will push the QwikSeal® into the low side of the system.
After the system has operated for at least 5 minutes, repeat steps 1-4 to add QwikSeal® Part B (Sealant) to the system.