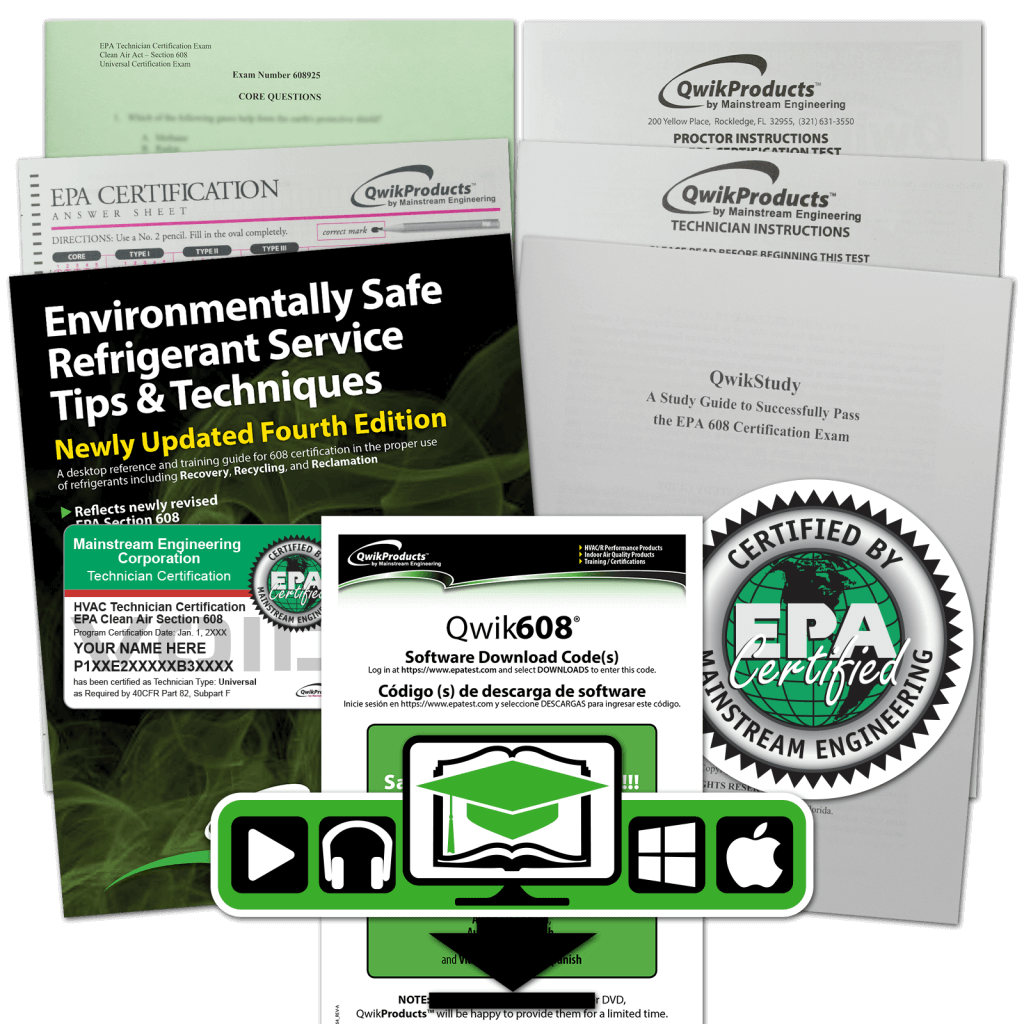 Qwik608®EPA Approved Certification
The United States Environmental Protection Agency (EPA) has required that all persons handling refrigerants should be certified. EPA-Approved Section 608 certification is needed to service building air conditioning and refrigeration systems. Additionally, with 608 certification you can purchase any refrigerant in containers greater than 20 pounds.
SKU: QT3000
The individually boxed course includes a 250 page, full color, fully illustrated study manual, a concise study guide, and a software code for downloadable interactive training software which includes over 400 practice questions and hours of video and audio content.
Four types of certification are available with Qwik608®:
Type I Certification - Can only work on Small Appliances (5lbs or less of refrigerant)
Type II Certification - Can only work on Medium, High and Very-High Pressure Appliances.
Type III Certification - Can only work on Low-Pressure Appliances.
Universal Certification - Someone who possesses Type I, Type II and Type III Certifications
Available in English or Spanish
EPA approved test for Type I, II, III and Universal
Course material is presented quickly and easily
No waiting for a class to form
Test results are available online at www.epatest.com
Exams are processed within 2 business days upon receipt
Toll free phone Customer Support (800) 866-3550
Purchase the Qwik608® course from your local refrigeration wholesaler.
Review the study material and take the practice exams.
Take the exam (included with your Qwik608® course purchase) at your local refrigeration wholesaler. Exams are offered online at some locations for instant grading and certification.
If a section is passed, receive your certification card via US Mail within 2 weeks upon Mainstream's receipt of your test.