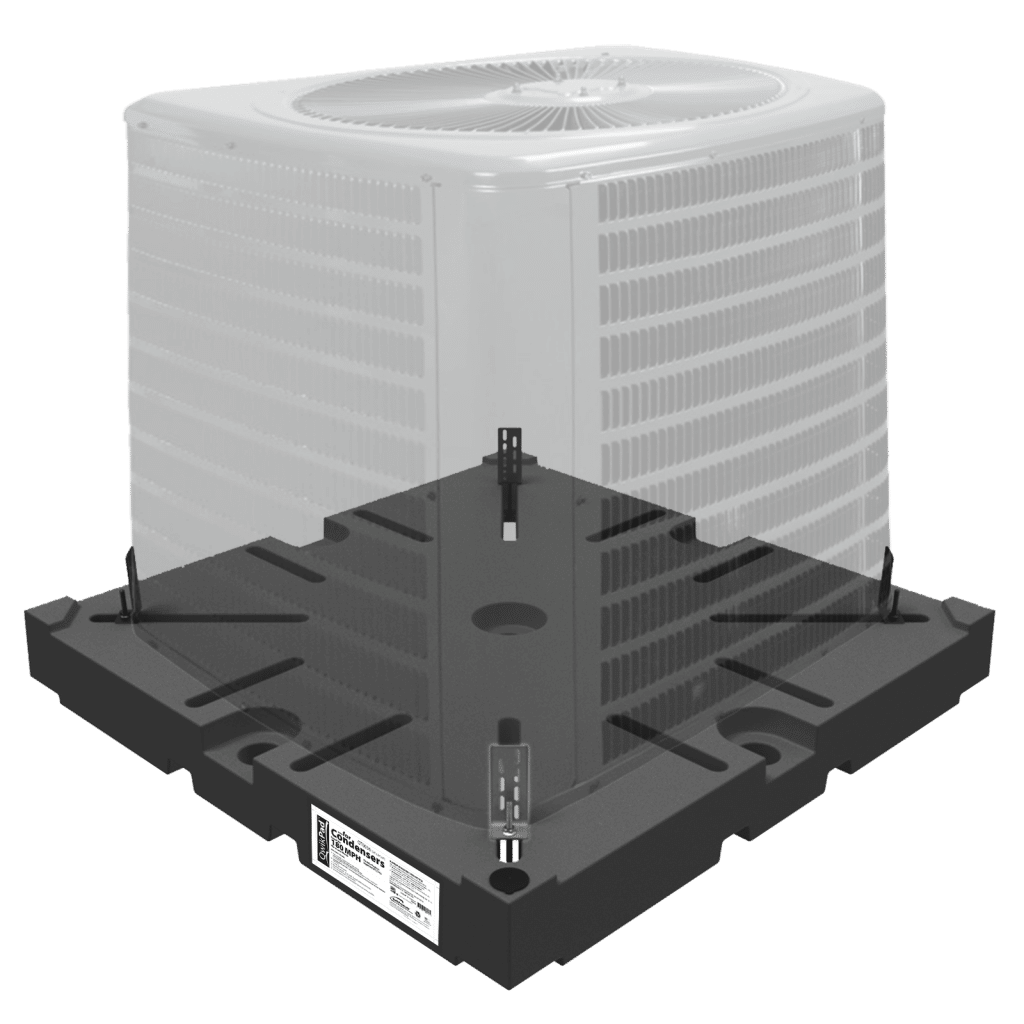 QwikPad™ for Condensersand Accessories
QwikPad™ for Condensers is a lightweight, easy-to-install condenser pad that meets wind loading requirements up to 180 mph. Includes corrosion-resistant stainless steel tie-down assemblies to secure the outdoor unit to the pad. U.S. Patents #10,408,493, #10,559,742 and other Patents Pending."
SKU: QT8036, QT8040
This product has received Florida Product Approval #FL25896 in accordance with the Florida Building Code - Seventh Edition (2020).
Engineering Documentation
The Florida Building Code rated air conditioning support pad is lightweight when purchased, but weighs enough to meet code requirements up to 180 mph wind loading when filled with water and secured with stainless steel tie-down assemblies (supplied). Each pad includes a unique gelling agent that, once water is added, forms a solidus gel. Optional ground and concrete anchors provide additional hurricane protection when needed.
*SEE FULL INSTALLATION INSTRUCTIONS INCLUDED WITH PRODUCT PURCHASE NOTE: In areas that experience freezing temperatures, only fill the QwikPad™ for Condensers 80% full for increased lifetime. This can be done by only filling the pad with water to a depth of 2.3 inches – when filling, use a dip-stick or straw to periodically check liquid height. Verify that an 80% fill still meets local wind regulations through our online calculator and information. This depth is true for both the 36 in and 40 in pad.
Choose acceptable equipment pad size and anchoring method that meets wind loading requirements in your area. Use the load tables included with the QwikPad™ for Condensers or use our automated calculation software.
Tip pad towards fill port corner. This will cause gelling agent to collect near fill port for proper distribution when filling.
If necessary, embed pad 1" deep in level compacted ground. Otherwise, simply place pad on level compacted ground in desired location.
Fill pad with tap water - DO NOT OVERFILL. Water will solidify into gel over time.
Install concrete or ground anchors, when required.
Secure the equipment to the pad using included hardware and tie-down assemblies.
QT8036
| | |
| --- | --- |
| Dimensions | 36" x 36" x 4" |
| Pad Weight (Empty) | 29 lb |
| Pad Weight (Full) | 162 lb |
| Maximum Condensing Unit Size | 32" x 32" |
QT8040
| | |
| --- | --- |
| Dimensions | 40" x 40" x 4" |
| Pad Weight (Empty) | 35 lb |
| Pad Weight (Full) | 200 lb |
| Maximum Condensing Unit Size | 36" x 36" |